Expert Tree & Shrub Care
Professional services performed by an ISA Certified Arborist
Quality Care Designed For Your Landscape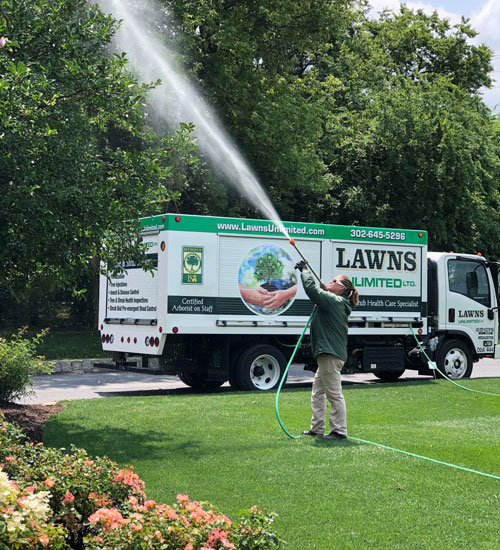 As your landscape grows and changes with the seasons, ensure that your trees and shrubs are protected against the elements. Natural aggressors like insects, disease, and weather all have the potential to damage the health of your lawn and landscape.
Perhaps your lawn, trees, and bushes are already exhibiting signs of poor health, like weeds, yellow patches, browning leaves, brittle and dead branches, insect infestation, and so on.
With our lineup of services in our Tree and Shrub Care Program – like shrub bed edging & cleanup, tree and shrub trimming, shrub bed mulching and maintenance, deep root fertilization, shrub bed weeding and weed control, bagworm treatments other insect control, and more – your landscape will be the envy of the neighborhood!
What To Expect From Lawns Unlimited For Your Tree & Shrub Care?
With an ISA Certified Arborist on staff, Lawns Unlimited has the experience and knowledge to ensure your landscape receives the expert care it needs. The following services are included in our Tree & Shrub Care Program:
---
Careful Inspection of Your Property
Monitoring & Treating Insect Activity
Monitoring & Treating Diseases
Managing the Overall Health of Trees & Shrubs
Additional Tree & Shrub Services We Provide
We promise that your lawn and landscape will receive full-service, top- quality care when you work with Lawns Unlimited.
Shrub Bed Weeding & Safe Weed Control
Shrub Bed Edging & Cleanup
Shrub Bed Mulching & Maintenance
Leaf Removal & Clean Up
Ornamental Tree & Shrub Spraying
Tree Spraying
Tree & Shrub Trimming & Pruning
Deep Root Tree Fertilization
Tree Injections
Specialized Bagworm Treatments
Safe Insect Control
And More!
Tree & Shrub Treatments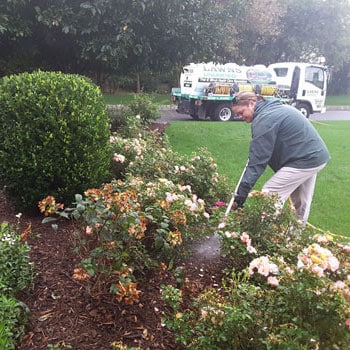 Our Expert Tree & Shrub Care Program uses specially formulated fertilization methods when treating trees and shrubs to encourage healthy growth. Plants require a balanced diet, so we provide the precise blend of nitrogen, phosphorus, and potassium they need to thrive.
With specialized care, your trees and shrubs will benefit from vigorous root development and active growth throughout each season. These effects will also trickle down and benefit the other plants in your bedding areas, too.
---
---
Insect Control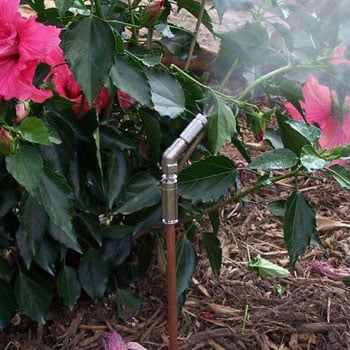 Insect infestations – like bagworms, grubs, spider mites, spotted lanternflies, aphids, mites, beetles, earwigs, ticks, mosquitoes and so on – are common annoyances for most homeowners. Fortunately, Lawns Unlimited offers pet-friendly and child-safe solutions to protect your property from unwanted pests.
Our botanically derived insecticide, Pyrethrin, protects your trees, shrubs, and flowers from planting-eating insects. For additional insect control and protection, learn more about our MistAway Systems here.
---
---
Shrub Bed Maintenance & Cleanup
As maintaining your shrub bed changes with the seasons, it can be difficult or time-consuming to handle properly – without stripping your trees, shrubs, and flowers of the necessities they need to stay healthy.
At Lawns Unlimited we offer a variety of shrub bed care services – like edging, mulching, weed control, and leaf removal – to ensure that your bedding areas are looking and feeling their best every day of the year.
Protect Your Investment!

We take great pride in caring for your lawn and landscape and understand that you, as a homeowner, have made a significant investment in your outdoor property. Let us protect that investment with our Tree & Shrub Care Program.
We walk you through the entire process on how we will take care of your property from the very beginning. We can make every part of your property beautiful and healthy, including your trees and shrubs!
Our Testimonials
We take pride in our professionalism for each and every job we do. Below are just some of the testimonials from our customers.
June 22, 2020
Testimonials
I want to shout out how impressed I was when your employee took out his blower and blew all the leaves in a pile for me. I was sweeping & racking everything that fell from the storm. I took out over 20 bags of leaves and branches and you...
View All Testimonials
Our Testimonials
We take pride in our professionalism for each and every job we do. Below are just some of the testimonials from our customers.
View All Testimonials